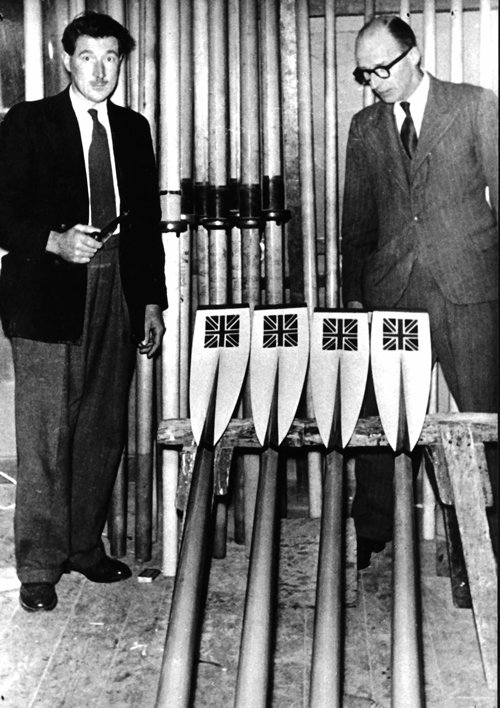 Specialising on producing the finest quality yacht masts, wooden oars and spars, we pride ourselves on a personal, tailored service and maintain a close and constant contact with our customers. From the critical choice of timber, to the final stages of smoothing and varnishing, a Collars product has over 85 years of experience and expertise put into it, making it the number one choice time and time again.
It was in one of the old Oxford University boathouses on the edge of the Thames, that
Frank Collar
started the business.The year was 1932 and with very few tools and no electricity supply, repairs to the college oars kept the new business busy. With Frank being a keen rower, he could see the potential for business not only with Oxford University, but also other colleges and it was not long before the business grew. By the time the Second World War broke out, the Collars reputation was sufficiently well established for Frank to secure a contract with the Air Ministry, to make oars for all the aircraft lifeboats.
Gradually the business built up so much that F Collar Ltd supplied oars for all the Olympic Games between 1952 and 1984, making the name instantly synonymous with premium quality racing oars. Collars' wooden oars and spars have gone all over the world. Chay Blythe and John Ridgeway used them for their Atlantic crossing. Countries such as New Zealand, Canada, Australia and of course, Great Britain, have taken them into competition. One retailer in Maine, USA proudly advertises their stock as 'hand crafted in England'!
With many parallels between wooden rowing oars and yacht spars, namely the use of the best quality Sitka Spruce, it was only a matter of time before this market found Collars. Enterprise and Wayfarer dinghies were the first in a long line of classes that relied on Collars to produce spars after the post-war boom in small dinghies and family boats.

With the introduction of carbon fibre rowing oars in the mid '80's, the demand for wooden oars declined, leaving Collars to focus their attention on yacht spars. Today this accounts for 85% of the business and with the move to larger premises in 2002, Collars capacity has increased to match the revival in the classic yacht market.
Usually, the initial shaping is done by machine but one craftsman does the final work with traditional hand tools, so an interested customer can actually meet the person who was responsible for the finished mast or pair of oars. This relationship is particularly important with one-off jobs that may require frequent consultation with the client.

Although machines have made the job lighter and quicker for modern oar and spar makers, there is still a tremendous amount of skilled hand work involved. From the critical choice of timber to the final stages of smoothing and varnishing, a Collars product has over 85 years, three generations and several working lifetimes of experience and expertise poured into it.